Nitrous Oxide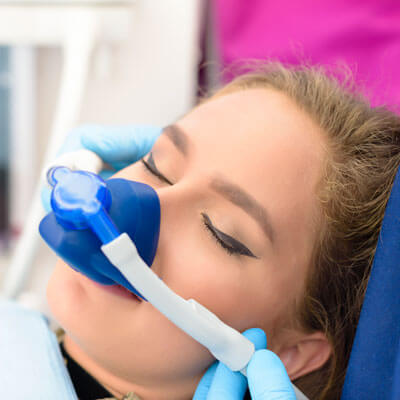 Does dental work make you nervous? We understand. Here at Just White Dental, your comfort is important to us. To ensure that you receive the care you deserve, our practice proudly offers sedation dentistry in the form of nitrous oxide or laughing gas and intravenous (IV) sedation.
Do not skip out on necessary dental care due to unease. Take advantage of nitrous oxide!
What is Nitrous Oxide?
A helpful way to remain relaxed during dental visits, nitrous oxide may be useful for a variety of procedures, including restorative care, cosmetic upgrades, and general dentistry. Administration is simple, as well. Given through a breathing mask, you will breathe normally while simultaneously inhaling the gas. Before you know it, the nitrous oxide will have entered your system, allowing you to feel more comfortable throughout your appointment.
Nitrous Oxide may help with the following:
Reduction of anxiety
Lowered risk of involuntary movements
Quick onset of effects
Relaxation while conscious
Does nitrous oxide sound like something you may be interested in trying? We are glad to answer any questions you might have for us. With the help of nitrous oxide dentistry, Just White Dental patients can feel confident about receiving the dental care they need.
Payment Details
As each patient is unique, requiring different attention, and dental procedures vary in length and complexity, it is difficult to predict cost of care prior to understanding your needs. Once we do, however, we will be able to provide you with an in-depth explanation of your upcoming appointment and what it may entail. Contact our practice and schedule your consultation to learn more about the care you need.
Want to Learn More?
If you are looking for more information regarding fees and payment options, including questions about your specific insurance coverage, please do not hesitate to ask. We look forward to hearing from you!

Nitrous Oxide West Ryde, Meadowbank,
Ryde & Denistone NSW | (02) 9807 8066