Children's Dentistry at
Just White Dental
We Welcome Patients of All Ages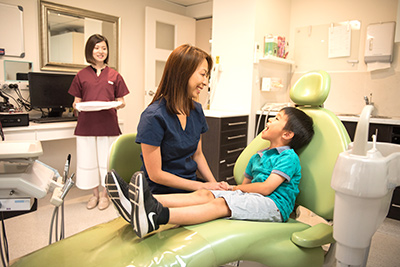 Our warm and friendly dental practice offers a complete solution to all of your family's dental needs. Dr Wyndham and Dr Ives are parents to young children themselves, so understand the gentle care needed when treating younger patients.
We pride ourselves on providing a fun, stress-free, and caring environment for patients, and are often told by patients just how much their children love visiting us. We welcome you and your little ones to come and experience the Just White Dental difference for yourselves!
Promoting Early Oral Health
We love working with families to provide them with the information they need to help promote excellent oral health and hygiene habits as their child grows. We see dental treatment as a journey, one in which we take pride in gently guiding our patients down the right path.
We also believe that when it comes to optimal oral health in both children and adults, prevention is key, so recommend our patients attend consistent check-ups and cleans every 6 months. Not only does this allow us to regularly screen for any potential issues before they become more serious, but it also works to prevent more complex dental treatment down-the-line, helping to save parents additional, long-term costs too.
Helping Children Overcome Dental Anxiety
We recommend bringing your children into our practice when they are very young, to get them accustomed to coming to our friendly dentists at Just White Dental.
We believe children should receive their very first dental check-up around their first birthday, as this allows us to make sure their oral health is on-track. We try to make this first check-up as enjoyable and anxiety-free as possible for your toddler, so assure you that the appointment will be quick, yet fun.
Want to Learn More?
Help your children maintain excellent oral health and hygiene by scheduling their visit with our dental professionals today. We provide unrivalled, high-quality, and gentle care that both parents and children love!

Children's Dentist West Ryde, Meadowbank,
Ryde & Denistone NSW | (02) 9807 8066