Lisa Vu (Oral Health Therapist)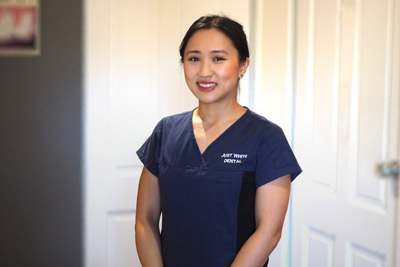 Lisa graduated from the University of Sydney in 2012 with a Bachelor of Oral Health. Before joining the team at Just White Dental in 2018, she worked in Canberra at ACT Health, general dentistry and orthodontic specialist practices, which has given her an abundance of knowledge and experience in her field of Dental Hygiene, Dental Therapy and Orthodontics.
She has also completed the Adult Scope Dental Therapy Course from the University of Sydney to broaden her professional skill set. Lisa appreciates her education and gives back by teaching Oral Health students at Westmead Dental Hospital as a Clinical Educator.
Lisa's passion dwells in helping patients achieve a healthy smile and to feel confident inside and out. She uses Aristotle's quote: "Pleasure in the job puts perfection in the work" as her philosophy that she brings to Just White Dental every day.
Lisa is bilingual, speaking both English and Vietnamese.
Outside of Dentistry
In her spare time, Lisa enjoys working out at the gym and meditating through yoga. And feel free to bust-a-move because Lisa is a great dancer too!
Book Today!
Achieve a healthy, beautiful smile by booking an appointment!
BOOK NOW

Lisa Vu | (02) 9807 8066