Audrey Wong (Oral Health Therapist)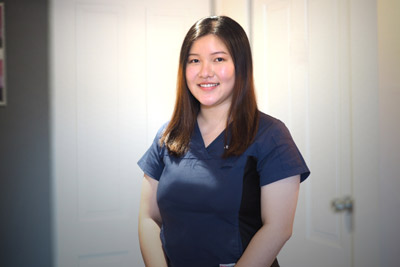 Audrey graduated from The University of Sydney with a Bachelor of Oral Health, and is dual qualified as both a Dental Hygienist and Dental Therapist. She has since returned to university and completed the Adult Scope Dental Therapy Course, and currently performs preventative, periodontal and restorative treatment on patients of all ages.
Audrey has gained experience working in various clinics across Sydney and regional NSW. She has practiced in both general practice and Orthodontic specialist practices, before joining the Just White Dental team in 2019. She enjoys all aspects of dentistry, and takes pride in always providing a positive and welcoming experience for her patients.
Audrey is bilingual, speaking both English and Chinese (Mandarin & Foochow).
Outside of Dentistry
Audrey loves travelling and exploring new places. In her spare time, you can find Audrey cooking and creating new desserts in her kitchen to share with others!
Book Today!
Achieve a healthy, beautiful smile by booking an appointment!
BOOK NOW

Audrey Wong | (02) 9807 8066